That depends. Don't you love that?
The truth is, there are many factors that influence the prediction of how long a parking structure will last and at what point you will need to tear it down and rebuild.
Parking structures are unique in that the structure is directly exposed to the elements, unlike a building structure that is protected by a Building Envelope. Exposure includes moisture, freezing temperatures, deicing salts, thermal expansion and contraction, and dynamic vehicle loads. All these elements work to degrade the structure and start doing so even before the structure is open to  patrons. After that, degradation accelerates over time. Figure 1 shows the degradation of a parking structure compared to a building structure over time. As can be seen, the only way to extend the life of a parking structure to that desired is with maintenance, the cost of which can be minimized with proper timing.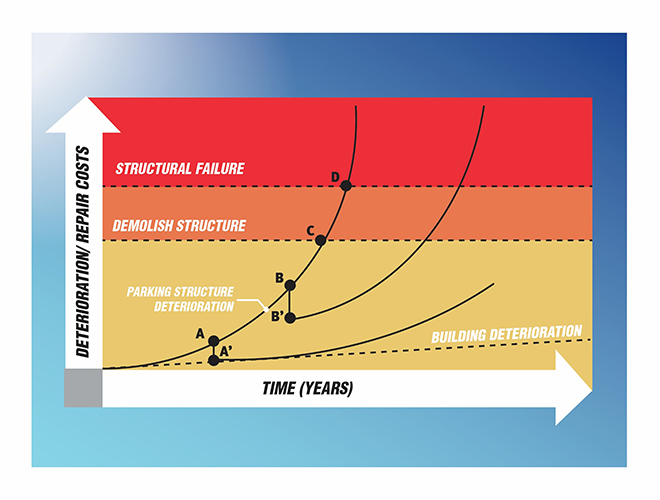 To further complicate things, different structure types may have lower initial construction costs but higher maintenance costs, as can be seen in Figure 2.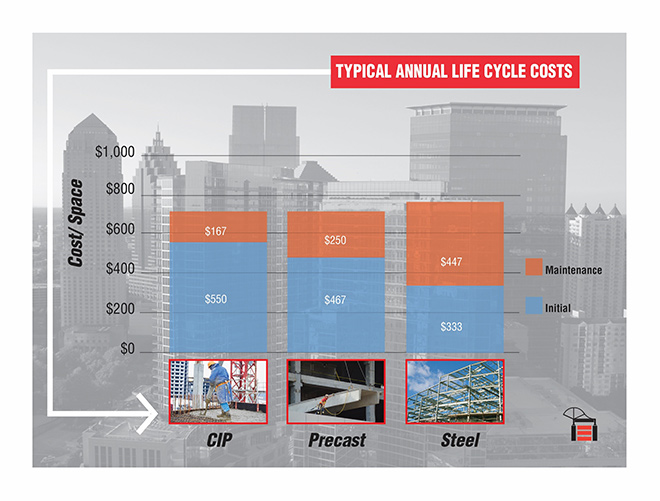 So back to the original question, which we are often asking ourselves after degradation is found that needs repair.
To predict the remaining life expectancy, several things can be done to base the answer on. First, testing can be conducted to determine the state of protection of the concrete reinforcement from corrosion.
The testing includes Chloride Ion and Carbonation Penetration Testing as shown in Figure 3. If the penetration of either has not reached the reinforcing steel, there is some useful life left which can be further extended with a traffic coating membrane. If the penetration has reached the reinforcing steel in limited areas, total slab replacement is an option. If more widespread, replacement of the parking structure may need to be considered.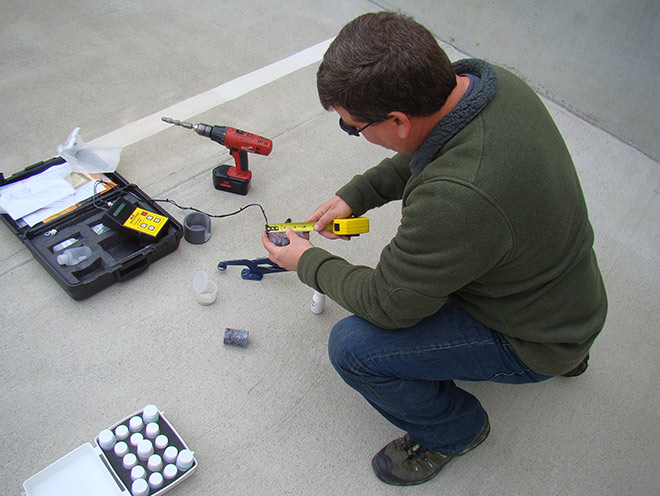 Assuming (based on this testing) there is adequate remaining useful life of the structure, a maintenance program can be developed, which if followed,  can provide an approximate life expectancy. along with a budget and plan to get there.



The engineers at IEI specialize in parking structure restoration. They will be glad to walk your facility and let you know of any conditions that require immediate attention, what maintenance activities you can perform, and when to extend the life of your facility at minimal cost. IEI can also conduct the necessary testing to determine the useful life of your parking structure and help you prepare a maintenance schedule. Give them a call today.